Stewardship 2018 – The Cheerful Giver
What a generous parish this is! To date we have received 116 pledges, which total $448,030.00. Our thanks go out to all who have submitted their pledges to the ministries of the Church of the Incarnation for 2018. We know that there are many of you who were not able to be at church on Celebration Sunday or for other reasons have not sent in your pledge cards yet. Please do so as soon as possible as this is a great help to our Finance Committee as they prepare the budget for next year.
We ask you to open your hearts and give out of gratitude to God for all the blessings of this life. The gifts you give will serve not only this parish but, even more importantly, God's people in our community and the world. If you need a pledge card please let Kirsten know at incarnation@incarnationwnc.org or 828-526-2968. Thank you.
*****
In the beginning God created us to be stewards of creation. Genesis tells us that we are to tend God's garden as faithful tenants, not as owners.
Faithful Christian Stewardship is a gift to help us maintain this proper relationship with our Creator, and, in so doing, live a good and holy life. It is so much more than funding a budget or "paying our fair share." Stewardship is at the heart of our very being.
God wants and expects a significant portion of all that we have been given: our Time, which is in God's hand; our Talents, which are God's gifts, and our Treasure, which ultimately belongs to God.
The programs and ministries of the Church of the Incarnation are all intended to make us better disciples of Jesus Christ. You are invited to enter in with a whole heart. There is no better place to begin or continue than an intentional life of stewardship. View the ministries, worship and education offerings and stewardship opportunities set out on our web site. Let us know how we can help.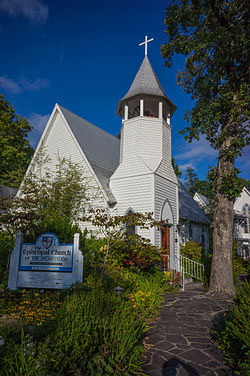 The Bell Tower Endowment (BTE) is an enduring legacy that provides funds for maintenance and capital improvements for our historic church and grounds for perpetuity. The BTE funds are kept separate from the church operating accounts. The principal continues to increase with good management and by regular additions through donations and bequests.
The monies contributed to BTE have been used for drainage around the chapel, new gutters on the chapel, computers, a new sound system, new lights in the Nave, painting the bell tower, air handlers on the roof, wireless microphones, roof repairs, etc.
Contributions to the Bell Tower Endowment (BTE) may be given in honor or memory of loved ones, for a birthday gift or just because!
Your gift will continue to grow and grace others long after you've gone. If you are interested in learning more about the Bell Tower Endowment, please contact Anne Jones at 770-262-2657.
BTE Board:
President: Anne Jones
VP for Donor Relations: Frank Langford
VP for Finance:  Michael Crosby
Secretary: Carol Lucas
We know people often like to honor the memories or contribute to funds that speak specifically to the passions or interests of themselves or their loved ones. To provide you with giving and contribution options, we are establishing other Endowments, including a Music Endowment and an Outreach Endowment. Watch this space for more information in the coming months.