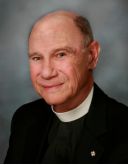 "We will walk with each other, we will walk hand in hand,
And together we'll spread the news that God is in our land.
And they'll know we are Christians by our love, by our love.
Yes, they'll know we are Christians by our love."
(A praise/Cursillo song.)
One of the joys of the interim ministry is seeing parishes faithfully moving forward into God's future with excitement and enthusiasm.  Certainly that is the case at Incarnation.
So much good work.  So many fruitful ministries.  Such lovely hopes and dreams.   Such high expectations of your wonderful new Rector!
Whoa, Nellie!
A word about those expectations.
A suggestion, invitation and plea about your role in making those dreams come true.
Whoever is called to be the next Rector will not meet all expectations of all members all the time.  I assure you that has never happened, and Incarnation will not be the exception.  There will be mutual disappointments. There will be conflicts.  Your Discernment Committee is working diligently and faithfully to identify and invite the best possible candidates, and your Vestry will make the final call, guided and sustained by the Holy Spirit.  I have absolutely no question in my mind that this is true.  But let me say again: There will be mutual disappointments.  There will be conflicts.
Your role is to be as positive and supportive as you can possibly be, especially in the early days of your Rector's new ministry.  Your leadership has been working tirelessly to heal old wounds and break bad habits, and to insure that the parish is united in its resolve to live together as sisters and brothers in Christ Jesus.
In my article in the May Parish Post I told you about the Covenant that the Vestry has adopted as its behavioral guide.  Everyone in positions of leadership is being asked to subscribe to it as well.  Now is the time to encourage every parishioner to prayerfully do the same.  Soon there will be copies in the pews, and it will be posted on bulletin boards.  You may want to go to our website now and review that document.  (Click here.)
If every one of you will prayerfully take this to heart, adopt the relevant provisions of that Covenant as your code of behavior, and hold your Vestry responsible to do the same, I promise you that the new Rector's ministry will be terrific, most of your mutual expectations will be met, and your hopes and dreams for Incarnation and for your own discipleship will come true.
"Yes, they'll know we are Christians by our love."
Fr. Rusty+