The Church of the Incarnation exists to proclaim the Gospel of our Lord Jesus Christ through worship, love and service. As individuals and as a congregation, we dedicate ourselves to this purpose.
We help each other experience the love of Jesus Christ by providing opportunities to deepen our spiritual journeys. We do this through a combination of worship, outreach and ministries that guide us along our paths and strengthen our spiritual bonds with the Lord and with each other.
We are members of the Diocese of Western North Carolina. Our parish is set high in the Blue Ridge Mountains in the picturesque town of Highlands, NC. We serve a diverse congregation of year-round and part-time residents, as well as the many visitors that flock to our mountain town. Our average Sunday attendance is approximately 250 in the summer and 100 in the winter.
We all come together to enrich the worship, programs, and life of the parish. Whether you plan to live in Highlands on either a full-time or part-time basis or are visiting Highlands, we welcome you.
About the Episcopal Diocese of WNC
The diocesan boundaries are the 28 counties in the westernmost portion of the state. It's a vibrant and exciting place to live and work and experience the glory of God's creation. More than 15,000 members worship in 63 year-round congregations, 6 summer chapels, and 2 conference centers. The Diocese's cathedral, the Cathedral of All Souls, is located in Asheville at Biltmore Village, while the Bishop's office is located in the Bishop Henry Center in Asheville just off I-240, Exit 6.
The Episcopal Diocese of Western North Carolina 
900B CentrePark Drive, Asheville, NC 28805
(828) 225-6656
The Rt. Rev. José Antonio McLoughlin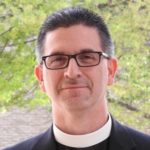 The Rt. Rev. José Antonio McLoughlin was consecrated as the seventh bishop of the Episcopal Diocese of Western North Carolina on October 1, 2016.
Prior to his election as bishop of the diocese of Western North Carolina, McLoughlin served as the Canon to the Ordinary and Chief-of-Staff for the Episcopal Diocese of Oklahoma since 2008. Previously, José served congregations in the dioceses of Southeast Florida and Virginia.
Ordained in 2005, McLoughlin earned his Masters in Divinity from Virginia Theological Seminary and Bachelor of Arts from the University of Central Florida. Prior to his call to the priesthood, McLoughlin worked in the criminal justice field serving in the State of Florida as a police officer and in the U.S. Department of Justice in Washington, D.C. in various capacities, most recently as the special assistant/senior advisor to the assistant attorney general.
McLoughlin and his wife Laurel have two children, Alexander and Alyson. Alex is a student at Oklahoma State University majoring in Sports Media and minoring in Spanish. Alyson is in high school and is passionate about acting. Born in San Juan, Puerto Rico, McLoughlin is bilingual, enjoys music, playing the drums, and studying 18th century American history.